How-to Obtain Your NO OBLIGATION Quote Online

If you are a first time visitor to the insurance protection website (inspro.ca) read the following guidelines to familiarize yourself with travel insurance plans before you get your No Obligation Quote or apply for a travel insurance plan.
Skip how-to and GO to the QUOTE Window now
Plans at a glance
To view plans at a glance and to get detailed information on a plan that you're interested in, select either the "Out-of-Province Travel" drop down menu or "Visitors to Canada " drop down menu from the left hand side of the QUOTE Window.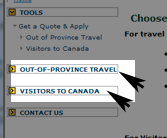 To get your quote
From the QUOTE Window, select either "Out of Province Travel" or "Visitors to Canada" under Tools > Get a Quote & Apply (left hand side of QUOTE Window).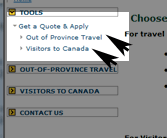 You will be presented with several options including single trip, multi-trip and quick trip, etc. Follow the on-screen instructions.
Note: When requesting your quote, all dates entered must be provided in the form of: MM/DD/YYYY (e.g. 04/11/2006 for April 11th, 2006).

Descriptions on the available insurance plans can be found here.
To purchase a plan
To purchase a plan you must complete the steps noted above to obtain a quote first.
If you are satisfied with the plan and the quote, check the icon next to "I have read and accept the conditions," and click on the Apply button.
Now Go to the QUOTE Window and get your quote!
More information about Manulife Financial Travel Insurance